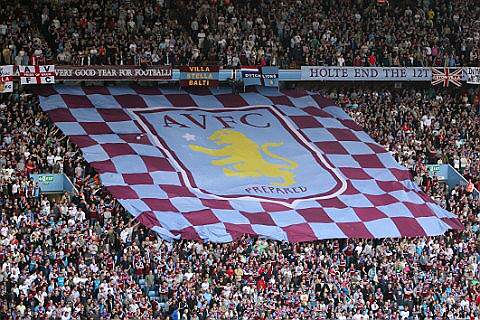 There was lots of excitement during the build up for the game against Stoke City. Tim Sherwood has come in, given some excellent interviews lifting fans and giving us confidence. Hiring Kevin McDonald was a great move, a popular move. However, come game-day, things went sour.
The line up was interesting and promising, the biggest surprises was the inclusion of Kieran Richardson at left-back, the return of Sanchez after 3 games and Agbonlahor playing behind Benteke. The line up was exciting it was attacking, Sherwood had actual wingers and two forwards, it was awfully positive!
But before I dive deeper into the underlying issue as to what went wrong, a few players impressed. I thought that Richardson had played well at left-back, he linked the attack well and got forward well. Ironically, after his injury, Stoke scored 3 minutes later after a Stephen Ireland cross from the left hand side of our defensive. Scott Sinclair did well to score the goal, he has offered the club with another attacking option and looks to be an exciting new addition. Yet one could argue that Sherwood failed to get him more engaged with the action.
Now onto the negatives, starting with Agbonlahor. He was absolutely invisible all throughout the game. Playing as a centre-forward he failed to make many runs, he failed to link up with Benteke and failed to create many chances. All in all it was a terrible performance by Agbonlahor and questions have to be asked as to why was he playing behind Benteke and not with Benteke.
Carles Gil really struggled against Stoke, it looks apparent that Gil may struggle against more physical sides. He failed to make an impact and received a match rating of 5.9, the second worst rating in Villa side. Could it be the way that Sherwood asked Gil to play? Perhaps, but I can't feel but wonder if Gil would've been more effective playing behind Benteke instead of Agbonlahor?
Lastly, Ron Vlaar. That's right our Villa captain had seriously let down the football club this weekend. Some argue that he was at fault for the first goal, allowing Diouf to get in front of Vlaar. But what is certain, is that Vlaar lost Villa the single point. That single point would've been enough to see Villa climb out of the relegation spot in favour of QPR. Vlaar's first touch, which led up the penalty was poor, but that was nothing compared to the horrific tackle that resulted in a penalty and a second yellow. As a captain, Vlaar needs to step up, as experienced as Vlaar is, he should've known that Villa needed to finish the game off. Ciaran Clark acted more of a captain that Ron Vlaar yesterday, some even argue that Clark should be now made captain instead of Vlaar. That might be questionable, but what is for certain is that Clark has been all around a better defender, more committed and better organised than Vlaar this season.
Moving away from the players, the manner in which Villa played was largely disappointing. Villa had 11 corners, yet more often than not struggled to get the ball past the first man. If the ball did get past the first men, if often flew over every bodies head and went out for a Stoke throw-in. The inconsistency of corner takers was also ridiculous, the likes of Gil, Weimann, Delph and Sinclair all took a jab at taking corners. This is something that Sherwood needs to work on the training field.
Villa played a long-ball style of play, with frequent crosses into the box. This is all dandy, especially with Benteke in the side. However, if he is double marked we need to see Agbonlahor run into that box more frequently. Gil and Sinclair also had to make more runs into the box to increase the chances of picking up a knock-down ball. The central midfielders failed to stay on the edge of the box and try to get a shot at goal.
It was a poor display by the Villa players and something needs to change. Next up Villa are away to Newcastle, a side that I think is a little vulnerable since the departure of Pardew. Time is running out, points are running out. Villa need to win against Newcastle if they are to have any chance of staying up. Against Stoke there were very few positives/strengths that can be taken out off. This week Sherwood needs to fire up the boys and perhaps maybe change the side a little. Perhaps giving FA Cup goal scorer Bacuna a place instead of Agbonlahor?