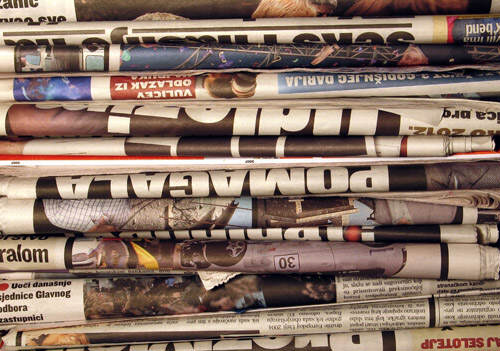 There really hasn't been too much news regarding Aston Villa throughout the past few days. There have been a lot of quotes from Wilkins regarding the signing of Richards and that losing Delph is a possibility. I'm not going to talk about those quotes in details, because I feel as though I have covered both topics in the past. So here is just a run down of some of the latest transfer news that has popped up in the last few days.
The Metro reported that Aston Villa have made a £3.5 million bid for Groningen's Tjaronn Chery. Chery (27, years old) is a versatile midfielder whose main position is winger but can also play in central midfield. Chery scored an impressive 15 goals in the Dutch league last season. Allegedly Saudi Arabian side Al Ahli are also interested in Chery and would be willing to offer a larger wage packet but Sherwood hopes that the lure of Premier League football would be enough to land the midfielder. But there is more to this story, some tabloids are reporting today morning that Groningen have rejected Aston Villa's £3.5 million bid.
I don't really know too much about Chery, but his goal tally is decent for a midfielder, in the past 5 seasons he has scored roughly 41 goals for 3 different teams and Villa are in need of a decent winger. The £3.5 million transfer valuation is fair in opinion and I hope that Aston Villa don't pay more than £4 million for a player that wouldn't have much of a resell value in the future due to his age. 
Aston Villa has also been linked Ajax defender Nicolai Boilesen. This report comes from the Netherlands, AD.nl claim that Boilesen has no future at Ajax and is interested in a move abroad, particularly to Villa who have expressed interest in the young defender.
"Nicolai Boilesen can benefit from interest from the Premier League. The defender has no future at Ajax is in the express interest of Aston Villa. Boilesen said late last season away to want at the club. He has an ear for a transition .

"At a training session of the national team of Denmark he was injured , however . He uniform number five had already been exchanged for a number seventeen omen." – Translation 
Boilesen is a young left-back who has got good pace. But just reading a little bit about him, Ajax fans claim that sometimes he runs around like a headless chicken and can forget the position in which he is playing in. I don't particularly have any thoughts on Boilesen except for the fact that he must be somewhat decent as he did graduate Ajax's youth academy. But he sounds similar to Bennett, not sure if we need two Bennett's. 
Adebayor is linked again with Aston Villa… reports say the same thing. Sherwood connection, trade for Benteke, ect… I don't think that Benteke will be sold in a player plus cash agreement and I don't think that the Villa board will allow Sherwood to buy a 31 year old striker, whose wage demands would be way to high and for a player with a questionable attitude. Villa should just focus on Charlie Austin.
Hull City have set a £10 million price tag for Robbie Brady in an effort to stop interest from the Premier League boys. I'd personally like Brady at Villa since I think he is a good player who can play as a winger or a wing-back. But £10 million? Come on Hull, he is definitely not worth the same amount as Fabian Delph. £5 million is a more realistic valuation. Plus Brady only has 1 year left on his contract. I just don't understand some clubs valuation of their players.