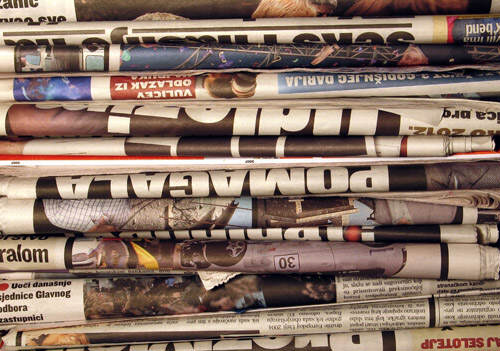 Today there is more news on the Aston Villa transfer front. Stoke City have rejected a bid from Aston Villa for their keeper Asmir Begovic. Begovic is heading into his last 12-months on his current contract and will sit down with Mark Hughes and chief executive Tony Scholes to discuss a new deal. That hasn't stopped Aston Villa from making a bid for the keeper. Begovic will most likely replace Guzan or add competition to Brad Guzan. Begovic lost his spot as Stoke's number 1 keeper to Jack Butland in the last few games of the season and was not happy about that. There hasn't been any news regarding the fee itself, but it's believed that Aston Villa don't want to pay more than £7 million for Begovic with Stoke holding out for £10. Like I mentioned yesterday, Begovic would be a fantastic addition. But paying £10 million for a keeper whose contract will expire next season is just way too much. 
The Metro reports that Aston Villa are interested in a triple swoop for Spurs trio, Adebayor, Townsend and Carroll. Sherwood wants to bring some of his former players to Aston Villa with Adebayor valued at £3 million, £10 million for Townsend while Carroll would arrive on a season-long loan. Sherwood apparently has a good relationship with the trio. I'd be fine with Townsend, but that's where I draw the line. Adebayor would definitely demand really high wages, currently on a rumoured £100,000 contract with Spurs while I don't see the point of developing a Spurs youngster ahead of one of our own talented youth academy players. Besides, how many times have we read about clubs making 'duo' or 'triple swoops'? Plenty, and they very rarely ever occur. But I wouldn't be surprised if Sherwood did bring in at least one Spurs player, it really just depends on which one it is. 
The Daily Mail reports that Liverpool will make £25 million bid for Benteke. Liverpool had an alleged £22 million bid reject by Aston Villa early in the month. Liverpool are not interested in matching Villa's £32.5 million price tag for Benteke and Villa aren't interested in lower their valuation of the Belgian striker. Oh boy, the Benteke-saga will look to continue. If Liverpool can't agree a price, what Liverpool player would you be interested in moving the other way? Or after the Ireland-Milner deal would you like to avoid a scenario like that from occurring again? Fabio Borini would be a good addition to Aston Villa in my honest opinion.