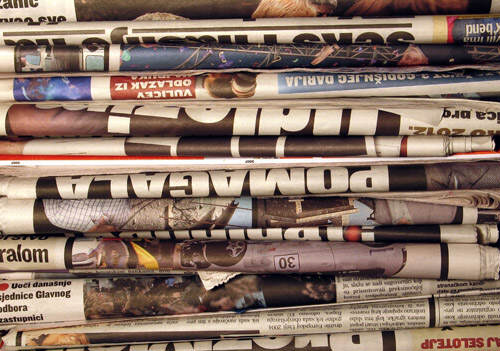 The Derby Telegraph has linked Aston Villa with Nottingham Forest defender Jamaal Lascelles. In his breakthrough season, Lasacelles has already interested the likes of Tottenham, Sunderland and Aston Villa. In 2011, Arsenal had a £5m bid turned down for Lasacelles when he was 17.
Upon further research Lasacelles is a young centre-back with a decent amount of pace and a defender who is particularly good in the air. This move seems unlikely as Lambert has already signed two young defenders this season, Luna and Okore. The only defender that is particularly needed at Aston Villa is an experienced centre-back, preferably on loan.
'Avillafan' report of a that latest transfer rumour to come out of Villa Park. 20-year old, Simeon Slavchev or known as the 'Bulgarian Lampard' is the latest midfielder and Bulgarian to be linked with Aston Villa. Slavchev is playing for Bulgarian side PFC Litex Lovech and has netted 10 goals in 16 appearances for his side. There is very little information regarding his position in midfield, but 'Transfer Market' is claiming he is a defensive midfielder. Costing £875,000 this can surely be classified as a 'Lambert target'.
There aren't many transfer rumours that come out of Villa Blogs but it's still a very interesting one. Many aspects of this rumour makes sense, he's Bulgarian and he's young. But just taking a step back, I don't think this is a player that Aston Villa need. Sure, he could very well be on a shortlist but I don't think a move will materialise.
Sebastian Pocognoli is linked with a move to Aston Villa and West Ham. Countless of tabloids have reported this. Hannover general manager Dirk Dufner has claimed that his club will listen to offers for the 26-year old full back. Pocognoli only joined Hannover last January from Standard Leige. I'm yet to find a quote for a price for Pocognoli.
Jores Okore has recently tweet out the following sentence:
"I may be back this season!!!" – Jores Okore
Okore raptured his ACL against Newcastle this season and it was forecasted that Okore would be out for the season. Following surgery it appears as though Okore may heal sooner than expected. So may feature before the end of the season. Surely it's a massive boost the see the young defender heal so quickly. Right now he is very much needed in the Aston Villa defence, but obviously health is the most important.
Lastly, Niklas Helenius's agent is expected to speak with Aston Villa in regards of a loan move for the young Danish striker. Helenius arrived at Aston Villa with a lot of hype. Unfortunately his only real impact to the English game was that his shorts were pulled down by Vertonghen. Still, he hasn't been given much of an opportunity to impress Paul Lambert so perhaps some playing time else will do him a world of good.
currentVote
noRating
noWeight