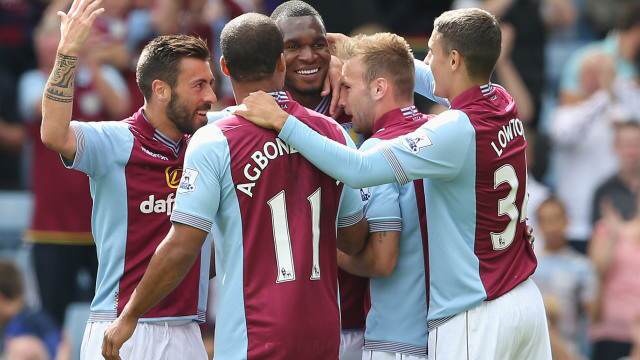 Picture courtesy of the Official Aston Villa website.
I have to hold my hands up and say from the off that I really didn't give this game as much attention as I probably should have (too busy administering the site fwiw), hence any opinions are at least open to debate.
But from what I saw, I was quite impressed, especially in the first half, where we played some lovely one touch, quick passing stuff.
Impressed enough to say we made Malaga look a bunch of mugs.
Considering they were Champion's League quarter finalists and sixth place in La Liga, last season, that's no mean feat.
Of course, in fairness, Spanish teams are a couple of weeks behind us in the pre-season, but who cares?
We got the result, which to me, isn't massively important, but always looks better than a loss.
Good points;
Benteke. Enough said.
£30 million?
That's not enough, in my opinion and if he carries on where he left off from last season, I really believe he's going to be the hottest property on the planet come the end of the season.
I believe it's now seven goals in the pre-season?
His first goal, he brushed two defenders aside as if they weren't there, simple.
Now I don't know how strong the Malaga lineout was, but whatever, Benteke just made it look so easy, which to me is always a sign of real class.
The second was a Penalty which he just nonchalantly rolled past the goalie who had gone the wrong way.
Tonev. Looks a very good buy for what he cost. Industrious, just as you would expect and whipped in some very good corners which will hopefully add to our threat in the coming season.
Okore. Looks like he might have the making of a good defender, but still early days and I'd have liked to have seen him alongside Baker, who he made way for. Never mind, I suspect we'll be seeing just that pairing soon enough.
Overall, very good in the first half.
Bad points?
Hmm, well we seemed to be a different side in the second half.
I'm not sure who the subs were as I missed the first few minutes.
But either Malaga had stepped up the game, or we eased off. It's a common thing with the Villa over the last few years and I still can't decide exactly which it is.
Anyway, Malaga improved and we weren't as good.
Which is where our defence started to look dodgy as soon as pressure was applied.
This is definitely a worrying trait and I'm not sure it's really been addressed as well as we'd like, but I'm not going to harp on it.
At the end of the day, where it's often been said that we probably need to score three goals because the opposition will score two, we did exactly that, which will do for me.
And let's not forget that one of theirs was an own goal.
I liked the look of that first half and can really see us testing some decent sides.
The defence might be a different story.